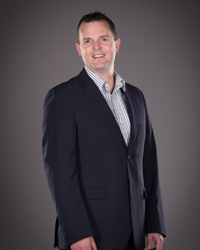 Todd is a geomatics expert, he has assisted businesses and governments with the application of location-based data and systems to help solve complex problems in marketing, mergers and acquisitions, transportation, logistics, the visual mapping of assets, and how they integrate with enterprise information systems and databases.
Ask any CIO their top three concerns, and they will say – data, mobility, and security.
Data is one of your most valuable assets.  80% of your data contains location-based information.  Whether your data references people, administrative boundaries, addresses, or physical phenomena such as weather, location is a foundational dimension.  Much of this location-based information can be represented as or associated to shapes and patterns.  And with the proliferation of sensors, mobile apps, and citizens-as-contributors, location-based information is already changing how we understand the world around us and how we make decisions.
We all use location and geometry in our daily lives – this is what we call spatial reasoning.  People, natural objects and phenomenon, human-made objects and structures exist somewhere in space – and the interactions of people and things must be understood in terms of locations, distances, directions, shapes, and patterns.  Our experts are trained in spatial reasoning, geometry, and geography – and specifically in the design and integration of data, processes, and tools to analysis problems in:
Building design, management, and intelligent spaces;
Natural resource management;
Climate change;
Transportation and infrastructure;
Emergency preparation and response;
Public safety and security;
National defence; and,
Formulation of data-driven government policy.
Mobility has brought the Internet to consumers anytime and anyplace – by shrinking and repackaging our devices with touchscreens and focused apps.  In the workforce, mobility is really about simplifying our workflows and integrating them with our mobile devices so that they are accessible from anywhere.  Location is a large part of mobility, from location-determination of the mobile device through GPS or indoor-positioning, to capture and reference of information based on location (e.g. geo-tagged photos).  Our experts develop location-based workflows, delivered to mobile devices, to enable citizens and staff to engage with your enterprise anytime and anyplace.
Security is a major concern to any enterprise – especially with the enhanced data collection and recording capabilities of mobile devices.  We leverage your wireless infrastructure to enable indoor location-determination and mobile-device managed security protocols to restrict mobile apps based on users' positions.  Whether you want to secure your conference rooms with locked-down recording capabilities, or identify and track unregistered devices, our location-determination and mobile device management technologies will allow you to protect your facilities from unintended electronic surveillance.


GIS, DATA, AND ANALYTICS SERVICES:
TRM provides a full range of GIS consulting, integration, visualization, indoor positioning, enterprise search, and analytics services to leverage your data, mobile, and wireless infrastructure investments.  Our services include:

GIS Consulting and Design Services
One of the challenging aspects of managing an Enterprise GIS is supporting development and deployment of new capabilities. Let TRM help you to implement GIS DevOps into your environment to quickly analyse, build, and deploy new map-based capabilities to your operation and increase the tempo of your delivery of maps and data to your stakeholders.  For mapping and data production operations, TRM will optimize your production workflows leveraging lean manufacturing techniques to increase your throughput and provide metrics for your entire workflow.  We leverage Esri ArcGIS, Safe FME, and open-source mapping tools such as OpenLayers, Leaflet, and GeoServer.
Our spatial extract-transform-load (ETL) services, leveraging FME from Safe Software, provide the ability to merge enterprise data from CRM, work management, and other systems with spatial data from CAD, GIS, satellite imagery, or sensor data streams that include position, into a common framework.  The power of an enterprise GIS analysis platform coupled with data mapping and geometry manipulation allows us to manipulate very complex information to create new analytical outputs.  We build custom workflows that manipulate data and repurpose it for redeployment in other systems.

Enterprise integration is a way of creating standardized interfaces to legacy and modern systems to liberate data from your systems, designing business logic that operates between and across multiple systems, and allows IT and business line units to quickly deploy multiple user experiences against the same core business logic and workflows.  We enable access to your location-based systems such as asset and work management, geographic information systems, building information and automation systems to connect these systems to enterprise business logic and workflows.
We have the tools and methodology to extract data from floor plans, work orders for equipment deployed on the shop floor or in the field, drone imagery from indoor or outdoor site surveys, and we generate simplified data representations that can be communicated across the enterprise through the enterprise messaging service.

Location-Enabled Enterprise Search
Your enterprise has millions, billions, or more of database rows, documents, maps, pictures, CAD drawings, remotely sensed images, web services and other datasets.  Leveraging Voyager Search, we are able to organize all of this content into a location-enabled search index that can be analyzed.  We can help you to identify and manage duplicate files, save millions of dollars in remote sensing acquisition fees, and ensure that your data meets minimum metadata standards.
TRM will help you to build search indexing services to enable you to geo-tag your documents, perform OCR processes, and link your millions of file and database records to a geographic index, such as GeoNames or your scientific data collection boundaries.  We can deliver a search experience that allows users to save their preferences and acquire data through a familiar eCommerce-style experience.

Your public-facing representatives and field personnel leverage tablet, smartphone, and enterprise-grade data collection devices to view, validate, update, and collect new information and associate it to geographically defined places, areas, and tracks.  We will help you develop on-device geographic data models to support data collection in a disconnected environment, improve your users' experience leveraging maps to provide context for your data, and support indoor and outdoor point-of-interest and wayfinding services.

Location-Enabled Wireless Infrastructure
Over 90% of Canadians now carry one or more mobile devices or wearable technologies.  We can help you to location-enable your wireless infrastructure investments to support space utilization studies, automate building services to reduce greenhouse gas emissions, and to enhance the security of your spaces through location-aware mobile device management.

Visualizing information in simple, digestible pieces through the use of dashboards, data discovery tools, and large-scale business intelligence and data processing systems is becoming faster and easier.  But integrating and visualizing location in a dashboard context with today's tools requires knowledge of geography, cartography, and a systems mindset to solve the visualization challenges in a way that demonstrates trends without designer bias.

Please contact us if you would like more information on the data management options that TRM provides.