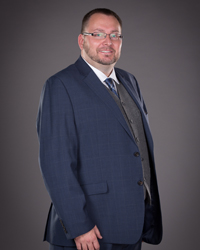 Practice Lead
Peter English

For over 15 years Mr. English has worked with public and private sector clients to develop policy, assess legislative and regulatory compliance, perform privacy and security assessments, and more. Through this broad experience Mr. English can provide risk management services which secure and empower business.
As a leading provider of security services for over 20 years TRM recognises that security is more than simply firewalls and encryption.  Security is a series of interconnected disciplines which must be pursued in a holistic fashion in order to achieve sound risk management, meet legislative and regulatory requirements, provide defence in depth, demonstrate due diligence and a pursuit of industry best practices, and to empower business.
Through disciplines such as:
Threat and Risk Assessments (TRAs)
Vulnerability Assessments (VAs) and Penetration Testing
Physical Security
Enterprise Architecture (EA)
Business Continuity Planning (BCP)
Privacy
Training & Awareness
TRM can provide an advanced and holistic approach to security with our team of dedicated, experienced professionals.
Please contact us if you would like more information on the Security options that TRM provide.